PINOY ROCK MEMORIES
Cebu 1974, I was there....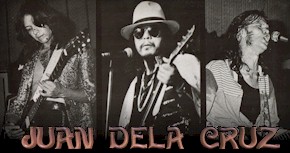 by Voltaire Trillo-Benedicto
1974, What a year! Just graduated from highschool and a freshman at
University of San Carlos in Cebu City. Coming from a small town of LaCarlota City, Negros Occidental, I would consider myself a "promdi" in the metropolis of Cebu. While walking down Colon St. on my way home, I happened to stop by at a local record store. Lo and behold, there on the front window was the poster of the Juan dela Cruz Band - coming to Cebu in a month! On the way back to my dorm, I did some accounting with my allowance - not enough to last me 2 weeks if I buy the concert ticket. The next day, I sent a telegram, via "RCPI" (no cell phone then) to my mother for additional allowance. Of course, I received a good lecture before the money was wired. Finally, I bought the ticket for the JDLC concert - my first concert experience.
I arrived early at the USC auditorium anxiously waiting for JDLC. There were a bunch of groovy chicks with their big haired boyfriends. I felt so inferior coz I was sporting a "crew cut" as part of my ROTC requirement. Nevertheless, we were all there for one purpose. The wait seemed to last forever and finally the 3 grooviest guy in the country came out. The whole crowd just erupted. They performed most of their hits, but the crowd got really excited when they sang Himig Natin, Balong Malalim and Rock and Roll sa Ulan. I went home late that evening and felt more matured musically and emotionally. I felt stoned but not really. Perhaps I was one of the few in the auditorium who did not do drugs or smoked pot.
I'm 44 now, married and father to a 7 year old boy. I've been a resident of the San Francisco Bay Area for 17 years now. Whenever I feel nostalgic and likes to reminisce my younger days, and there's only one music in mind and that's the music of the Juan de la Cruz band. As the saying goes- "Why waltz when you can rock and roll!".